We vector time by the rotation of our planet as the basis of our daily existence, to measure, compare and to create a means to coordinate our activities. Then some clever physicists realized that there is a definition of time that has nothing to do with clocks, calendars or the differentiation between night and day.
Space became the basis of a more universal clock that seemingly has no hands to sweep around a dial. Referents that define space by comparison seemed to unify both the external and internal universes that serves as no more than a navigational aid, or tool making application.
Now we add the mysterious relationship of gravitational force in our local neighborhood of three dimensional semi-solid physicality and it's relationship to electromagnetic forces and the tentative observation that gravity bends space. Not all gravitational fields were created alike.
Add to this the most primary essence of these forces which is termed light and we have Einstein
imposing a speed limit on our space ( time) along the byways of the three dimensional universe.
Now we have the insertion of quantum mechanics violating the speed limit of our provincial neighborhood. Spooky actions at a distance, it is said.
Note the word distance as comparable
to space, hence time.
If this were not confusing enough we add another referent to space and time which is dimensional far beyond our own three dimensions as referents and we consider how many dimensions can light navigate? The last time I checked there the count was up to eleven dimensions. Which to chose? An open loop or a linear arrow of space and time? Or is it a closed loop? Can it be all three depending on our means of vectoring space?
Asking what time it is becomes a silly exercise in subjectivity and what we call eternity is a tricky business as space itself has a trickster element to it in relation to perception and beyond perception there is the trickster nature of space and one is folded into the other the last time I checked.
Some considerations are very much like the non categorical opening of a zen koan as a question that provokes rethinking. What if you went back in space ( time) and murdered your grandfather?
Only a human being would pose such a question and yet the equilibrium the question poses in space is the consideration you would cease to exist as an example of linear causality.
Now the science community appears to have resolved this question through ( of course ) quantum mechanics and you could go back and murder your grandfather with impunity and still possess an existence, the world famous "I Am" principle would be unruffled.
Regardless of what metaphysician or sage of old we refer to, they all have come to a similar conclusion that whomever is reading this essay occupies a dream state in a isthmus between the external and semi-solid physicality of the external universe and the unencumbered inner universe of observation. In both cases, it is safe to assume there are hidden variables.
http://www.superconsciousness.com/topics/science/why-consciousness-not-brain
In this context we could consider ourselves to be a time ( space ) traveler who is under the thrall of a aforementioned trickster that places illusionary street signs in our neighborhood as an act of suggestion that created a false sense of transient orientation. One could say in our little neighborhood this perception became a rite of initiation, a tradition of orientation.
An interesting consideration is our critical assumption regarding what is known as the arrow of time and that all anomalous events regarding ghosts come from the past.
Even if we take the linearity of the arrow of time ( space) to be a horizontal timeline ruled by clocks and calendars, oddly enough we remain time travelers and this we can easily self verify.
A question then appears as a consequence of this framing of our travels through time which is are we traveling at all? Are we stationary as to suggest this is the reason behind ghosts as a transitional reformatting of energy as information that remain oriented here? This is what Rodney Collin called the "electronic state"
Perhaps the iris of the human eye as pictured at the top of this essay that links the parallel universes of external and internal time keeping bears a relationship to what we see as a tunnel through the three dimensional physicality of the visible universe known colloquially as a black hole as the microcosm of the macrocosm.
Then we may as well consider that despite our own transitional state of semi-physicality, we too are ghosts, only of a different stripe lulled into possessing any number of false suppositions like the Flatlanders of Hinton's exploration of perception linked to dimensional qualities.
Then again the further we remove ourselves from the psychological safety of both clocks and calendars as well as the safety of biology through the limits of perception things become rapidly abstracted. It tells us that certainty is a subjectivity and probing deeper into abstracted extensions of time, what of the ghost ships that patrol our atmosphere and their strange vectoring? Then again how do human ghosts vector themselves?
Do these ghost ships resemble what Gurdjieff termed 'omni-present platforms" as a means to create a vectoring system for the disembodied? Are the skies a highway for the dead as much as the bones of what were their habitations as merely referents they cannot walk away from?
Is the sky a proverbial river Styx? The metaphor of the heavenly afterlife of angels walking through the clouds closes a circle of human mythologies in a 21st Century context envisioned with the framework of technological picture frames..but then again..it's about time and it's mysteries onto which we are folded within as the primary axis of the paranormal.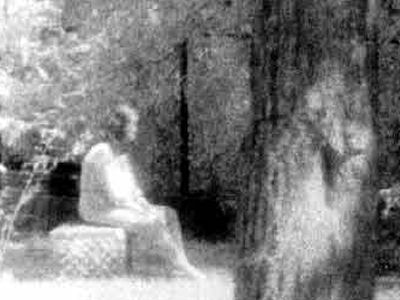 I
f quantum mechanics provides for the reorganization of energetic information imbued with physicality in a manner that allows time travel, a question arises. Is there more than one version of the past? If so, how many versions are possible on parallel paths or more cogently, parallel universes of human experience? Is there a universe where the butterfly effect runs in reverse, achieving what some scientists label as retro-causation?

We all know the old axiom from physics, that no information \ energy is destroyed, it is simply modified. We assume by perception that the arrow of time moves forward but does it also reverse, and if it does, is there a middle ground where a demarcation does not exist between them, rather a state that resembles the spectrum of a continuum? Are some cases of precognition evidence of retro-causation? Information carried from the future into the past which we call the present? What of persistent images that play as a unending spool in ghost visualizations? A woman is seen walking up a staircase over and over by witnesses through the centuries. The disturbance or reorganization of a certain vectoring by the physical rehabilitation of the locality where ghost behaviors occur, is this a case of quantum restructuring that causes the cubing of activity as an effect by the disturbance of the past?
Is this subliminally sensed in it's original context? The rapping of hammers without a source of sound heard arising from a parlor on a summer day in 1909. Are the visions of strange airships originating from a future past? Rick Phillips and myself went through a prolonged discussion along similar lines some time ago and we both arrived at an odd conclusion. There is no such artifact as now. So, dear reader, if this is so what does this imply in relation to 1906?