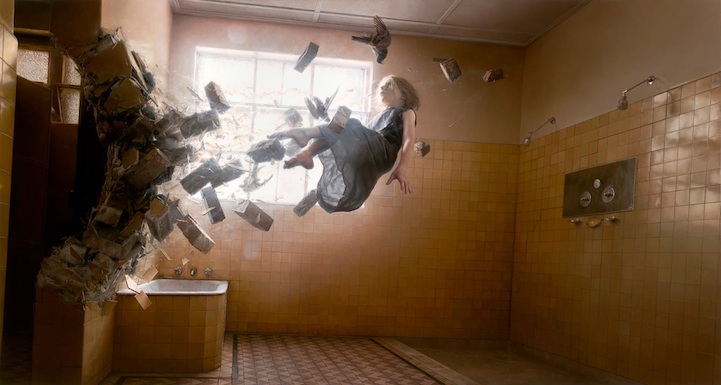 Illusions and Allusions of Control Systems
This is a story of a glaring mismatch between mathematics, the realities the anomalous represent, and the control systems both physics and language represent in terms of our being boxed in by them while attempting to think outside of the box. The way these systems operate is so obvious as to make them buried in our psyches as not measurements but as real as say, the physicality of a brick.
Investigators may want to avail themselves of what the study of metalanguage offers. Metalanguage is the study of our communications languages and how we image reality through our references in that regard. A subtlety and discernment of how we project consciousness into predictable pathways, that can be a house of mirrors that we have a difficult time separating ourselves from. The formal and stable systems we rely on to control psychic states in order to derive rules seem to be projected upon everything outside of ourselves.
Why? It may be a presumption that theoretically we can control everything, whereas the paradox is that how we frame problematic issues that we cannot control is the result of internal cybernetic controls.
Round and round we go.
http://en.wikipedia.org/wiki/Metalanguage
As Gregory Bateson once observed.. how nature works and how we think are two entirely opposing realities. Is this so?
On one hand we have Jacques Vallee a one point defining UAP as a "control system" which struck me as a compounding of the fact we are led by the cybernetics of our own control systems.
At some point it was if a statement were made that outside manipulations with a mathematical precision rather than the indelible internal forces were responsible for the frameworks of reality that we inhabit.
At the same time, we have Vallee and Davis regarding the events of Skinwalker ranch as representative of a physics of the incommensurable. Are you confused yet?
Have you noticed that when you dig deeper into the dialog of the anomalous, you find control systems at the heart of the entire framing of the questions we ask? Government conspiracies,"extraterrestrial" intent in terms of exploitation, psychic manipulation, advanced avionics control systems..the list of similar examples all project ourselves as being enmeshed within examples of rationality being a metaphor for control..
We have to ask, is anything controllable or are we projecting our own pathological habits elsewhere?
At times, physics and mathematics in of itself seems to have evolved into evidence of an observer effect when it comes to the number's game where the coherence of calculations fold back onto themselves into chaos when searching for a singularity within a formula that binds together numbers as a tool versus numbers as a reality.
The question to my mind is the extraordinary extent mathematics defines reality in an everyday sense, whether it is the daily stock market reports, birthdays, check stubs, calendar based rituals...the list seems endless.
That being said, how much of this has to do with the realities that exist beyond this scrim of mathematics?
Mathematics, much like it's counterpart in the cybernetic control systems of language as a human invention of measurement has gone beyond a tool to become a abstracted barometer of how we view the world, which for all we know, has nothing to do whatsoever of what we may be, and yet physics plunges ever deeper into crossing the line between math as a measurement to math as a definition.
When the theoretical meets the highway and seems to veer off into the median when it comes to the application of rationalism and logic to the universe and so we ourselves as an expression of a higher number, has led to a layering of parallel paradoxes.
The referential aspect of numbers now seems to draw an interest in numbers as a reality versus a measuring device. One thinks of the representations of so called "sacred geometry" or the diagrammatic signs and seals of the medieval occultists attempting to create a magical circle to draw the imaginal into their influence, to in effect, do their bidding.
Not much has changed as far as I can tell. After I read the below linked essay, I came away with despite the increased complexity of physics, they are still focused on a predictable and mechanical model despite they are observing a moving target that also represents themselves, a target that is not fixed in amber and while we can find similarities in patterns of cycles, this essay brought to mind the role of images and imagination as in Ibn Al Arabi's cosmology that represents a continuum of flux based on contingencies that have no fixity from where we sit.
He said the end result of this is the best we can find are similarities in the sum that is incommensurable. The existentialist thread of our times continues along the back alleys and detours that suggest a yearning for a magic formula that is a conclusive argument wherein there is no conclusion as this is at the root of both transience and evolution both inward and outward. The situation where physics can tie shoelaces only to find they have bound their feet together is perhaps more the story of the weaknesses of human psychology than it is an accurate representation of what will always be in it's aggregate sum...incommensurable.
http://www.newscientist.com/article/mg22129530.700-from-i-to-u-searching-for-the-quantum-master-bit.html#.UuFG-dUo7nA
All of this brought to mind my re-reading another essay that on the other hand, recognizes the role of incommensurate nature of UAP.
http://www.skinwalkerranch.org/images/Vallee-Davis-model.pdf
All of this has resulted in a clash of personalities which then I draw a line back to the search for a fixed mathematical formula for the realities we inhabit as well as experience. In this report the sociological bias is of course..technology as a representation by projection of the application of immutable laws, the universe as a hard shelled spacecraft and there is more than enough irony in this if we view this essay's main thrust as a metaphor such as the physics numbers game. Imaging and imagination in both cases come to the fore.
Again it seems to affirm my personal trend of lately considering that we imagine we are conscious.
And at the heart of this is a deeply buried question beyond our measurements, how do we imagine what does not already exist? This seems to be at the root of conscientiousness itself as representing the mutable rather than the fixed conceptual models of the universe we have at hand. This, in turn, reminds me of RA Wilson's observation that we live in "naive realism"
This has a direct bearing on the context of the anomalous, does it not?