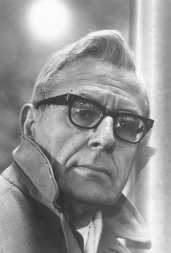 This review says it all.
A native of Lincoln, Nebraska, Loren Eiseley began his lifelong exploration of nature in the salt flats and ponds around his hometown and in the mammoth bone collection hoarded in the old red brick museum at the University of Nebraska, where he conducted his studies in anthropology. It was in pursuit of this interest, and in the expression of his natural curiosity and wonder, that Eiseley sprang to national fame with the publication of such works as
The Immense Journey
and
The Firmament of Time
.In
All the Strange Hours
, Eiseley turns his considerable powers of reflection and discovery on his own life to weave a compelling story, related with the modesty, grace, and keen eye for a telling anecdote that distinguish his work. His story begins with his childhood experiences as a sickly afterthought, weighed down by the loveless union of his parents. From there he traces the odyssey that led to his search for early postglacial man—and into inspiriting philosophical territory—culminating in his uneasy achievement of world renown. Eiseley crafts an absorbing self-portrait of a man who has thought deeply about his place in society as well as humanity's place in the natural world.
http://www.goodreads.com/book/show/515290.All_the_Strange_Hours